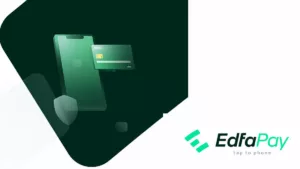 KSA-based B2B Fintech EdfaPay has raised $1.6M in a pre-seed round to overcome the physical payment process moving away from traditional POS and NFC technologies.
The funding round was led by Nuwa capital, InspireUs VC, Wallan Investment group, and angel investors.
EdfaPay will use the funds to launch financial services across the Kingdom and support its market-entry efforts.
Founded in 2022 by Ghormallah Alghamdi and Nedal Sabbah, EdfaPay offers small and mid-size companies several financial solutions. It supports those companies in collecting customers' payments without using the legacy traditional point of sale or any other physical payment devices.
In light of this platform-launching investment, partner founder in EdfaPay Nedal Sabbah concluded with high hopes for their market offering "There is indeed a need for an urgent solution in this digital world to address and resolve most of the legacy POS shortcoming and beyond. We believe EdfaPay will be the perfect solution for that."
Business owners can use EdfaPay's digital solutions smoothly only through "Tap to phone." They turn their mobile into PoS and accept payments easily, quickly, efficiently, and safely.
EdfaPay's innovative solutions include: Accepting any payment method (all major cards, both local & international, as well as multi-currencies, and cash on delivery). Also, Access anytime anywhere" executing transactions anytime and anywhere using your phone.
Moreover, getting EdfaPay's innovative solutions requires a free subscription to get the app. on the phone and start executing.
The state-of-the-art solution provided by EdfaPay works through NFC technology. According to the Saudi payments company, it's a fast-growing market trend worldwide, contributing to more than 85% of the POS transactions.
CEO Ghormallah Alghamdi elaborated, "One of the main drivers behind adopting this new technology is the fact that the Saudi market has a great chance of expanding in the financial technology domain. Keep in mind that most of the available solutions currently serving the Saudi market are not built by local expertise and are highly dependent on white-label external vendors. We will be offering this locally-built solution with the support of a talented Saudi team. We will be furnished with solid investors who will be bringing along and wide Fintech experience to the table to achieve EdfaPay objectives very soon."